Raw milk
As you can imagine, it's been a part of daily foods since ages. The recent fast growing industry and businesses caused that milk in the raw form has become so uncommon during recent decades. Health and food organisations point to the possible dangers of bad bacteria it can possibly get contaminate with, either at the very first stage of collecting or later during the transport. As a result, now all milks that you can normally find in shops and supermakets are pre-heated (pasteurized) to temperatures high enough to kill all bacteria - the good and bad, so we can be sure there are no hidden dangers consuming a milk or cheese anymore.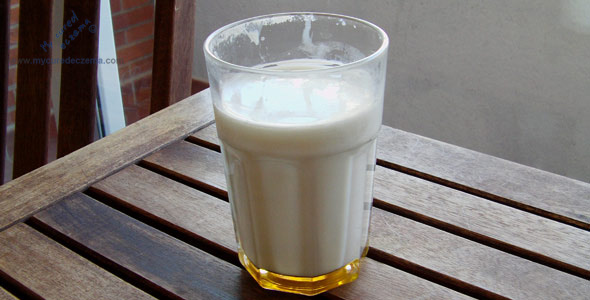 On the other side, there are a lot of people claiming good health benefits such as relieve from atopic eczema conditions. A lot of families started to give it to their children, but is it really a good idea? I would say that the truth, as always, is somewhere along the middle. While there certainly are some benefits one can get from drinking an organic raw milk, there are also risks that you can receive a bacteria that your immunity might not prepared to fight with.
At risk are people with a suppressed immune system. Another good point is that, while the idea seems pretty logical and natural, we have to keep in mind that now the majority of people were born and live in a completely different world as it was let's say 50 years ago. That means we are not armed with defenses against possible threats from raw milk as people growing up on farms.
In some countries, the sale of raw milk directly to consumers is prohibited. For example in Canada under the Food and Drug Regulations since 1991. In the United States, only 28 states allow its sale. On the other hand in Europe it's usually permited and in some countries, such as my homeland Slovakia, we can even buy a unprocessed raw milk from a vending machines called "Mlekomat", which are distributed in some cities.
Possible benefits
Milk in the unprocessed form likely to have higher levels of fat-soluble vitamins and other nutrients. There are also some surveys suggesting that a lot of people diagnosed with lactose intolerance no longer suffer from symptoms after switching to raw milk. However this has not been proven in any clinical research.
Raw milk differs from the pasteurized one also in other, more easy to spot aspects, such as the flavor, texture, smell, etc. which are prefered by its fans. Although it might have some positive effects in relieving eczema and allergies, I would still be very careful. If you decide to try it out please be sure to choose a very reliable source, maybe directly at farms, etc.
IMPORTANT: To get the whole routine I used to fight my eczema, simply join my group of subscribers in the upper right-hand corner.