Grape seed oil
Here I bring you some facts about another oil that is nowadays increasing its popularity thanks to its powerful composition and plenty of good stories of people using it. It's made from the seeds of pressed grapes and if you like curiosities, it's actually a by-product of winemaking. It contains a huge amount of vitamin E - twice the olive oil. Apart from the overall health benefits, can it releave our eczema problem? I know that everyone on my website is interested especially in this problem so let's take a look at what I found people say and my own experiences.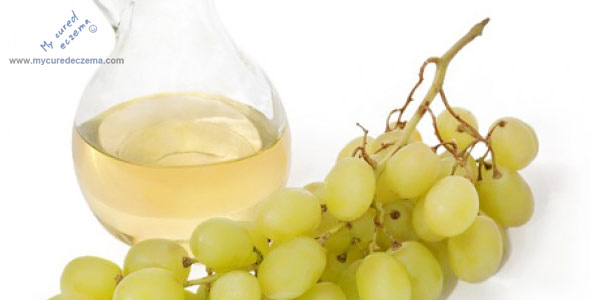 The truth is that this isn't anything new and grapeseed oil has used as a skin treatment a long long time ago. The thing is that most seeds in general have strong antioxidants, vitamins, omega-6 fatty acid and minerals inside, which can only promote our health and the healing power of our body. That's why there are numbers of articles on the internet talking about all the other oils such as flax seed, hemp seed, black seed, pumpkin seed, sunflower, sezame, etc. the list goes on and on. However as with everything in this world there are some differences.
Grapeseed oil is exceptionaly powerful and contains a lot of phytochemicals, including polyphenols and proanthocyanidins. The Linoleic acid, which is the main component, has been used for almost a century to treat eczema and other skin conditions. It is known to function as a good skin protector, improve wound healing and helps decrease itching thanks to its anit-inflammation properties. It will be especially suitable for you if you use to have a dry skin. This is also one of the reason it is so widely used in as a massage agent in a lot of saloons.
Internal usage
If it works so great when applied on the body, I'm sure you can imagine that it can make wonders if taken as a immunity booster with your favorite meals and salads. Some studies show that it can even positively affect your circulatory system, lower your high blood pressure and the strength of your blood vessels.
It supports the hair growth and makes your hair thicker and stronge after a while of usage, taking both internally and externally by applying on your hair. You will just leave it there for a couple of minutes everyday, and you'll harvest the benefits in a week or two.
Here I would like to mention a little warning. Some people allergic to dairy foods and thus cannot use butter in bake goods, started to use grapeseed oil as a simple substitute because its taste is pretty similar to the traditional butter. However I would strongly advice you not to do that because it's very high in omega-6 polyunsaturated fat. Human bodies are not made to be able to process that so much of them. Just think about it, how easy is it to naturally extract oils from seeds? Without all the industrial processing it's practically impossible so there you have it.
IMPORTANT: To get the whole routine I used to fight my eczema, simply join my group of subscribers in the upper right-hand corner.