Nystatin (antifungal antibiotic)
It's a strong fungistatic (inhibiting the growth of a fungus) and fungicidal (destroying fungus) drug used to fight any most of the known yeasts and yeast-like fungi. It's sometimes also used in a treatment of eczema and similar dermatitis issues as there are some debates on the possible cause by a fungi, mainly Candida albicans. I have never had the opportunity to try it on my eczema, but I have seen some stories that in some cases it was helpful. You also need to have it prescribed by a doctor as it needs to be taken carefully.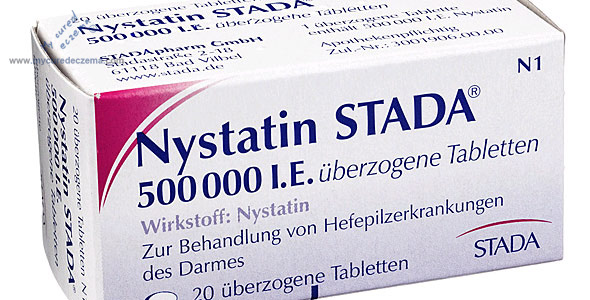 It can be very toxic, which is the reason why there are actually no injectable forms in US pharmacies. Taking it both, orally and topically , is considered to be safe due to its low absorption through the gut or skin. However, even in this case, it is not advisable to use it for a longer period of time than a few weeks in a raw.
Although the effect in treating eczema has never been supported by studies so far, Nystatin is successfuly used as a treatment with Cutaneous, vaginal, mucosal and esophageal Candida infections. Non-medicinal areas in which this drug is populary used include also works of art - where for example applying it to wooden panel paintings, makes it more resistent to molds especially if works have been exposed to dumpness due to an accident in gallery, etc.
How does Nystatin work?
Nystatin, being a polyene antimycotics antifungal, binds with sterols(principally ergosterol) in the membrane of fungi. This leads to a change of its transition temperature and thus making it less fluid, which makes small organic molecules to leak. This process is normally characterized as the primary way a cell dies.
The reason why it can be applied to animals and people, is that their cells don't contain ergosterol, but cholesterol. Anyway, there is still a risk of anti-fungal drugs being toxic to us, as some high therapeutic doses might result a partial binding to cholesterol.
The most important thing is to listen to your doctor prescribing you this drug and follow his advises. Drugs can be very tricky and you never want to mess with them to put yourself at some kind of an unnecessary health risk. Just to mention, there's also a lot of various "Candida diets", which are aimed in killing yeasts and fungi. Basically, the strategy there is to starve them by strictly restricting any kind of sugars. This also applies to fruits known to contain high amounts of carbs, such as for example bannana..
IMPORTANT: To get the whole routine I used to fight my eczema, simply join my group of subscribers in the upper right-hand corner.