Apple Cider Vinegar
Vinegars have a long history of medicinal and cleaning properties and in this article I'm going to focus on ACV. It's a vinegar made from apple must, which we get by crushing apples and squeezing out the liquid. To speed up the fermentation process where sugars turn to alcohol, we simply add more bacteria and yeast although they are already naturally present in the environment. Consequently, the acetic acid-forming bacteria converts alcohol into vinegar.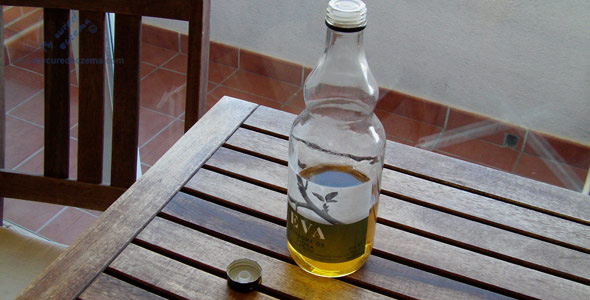 As a result, we have a product of a very characteristic sour taste and odor. If have you made some research on eczema already, I'm sure you have seen a lot of treatments of eczema by vinegar soak, or the benefits it has when used internally. My experience with soaking my fingers covered by eczema in a 1:2 solution of apple cider and water for 10 minutes is following:

1.) aleviates from itching
2.) it seems to have an anti-inflammatory effect
3.) stings a lot
4.) converts little itching blisters into scabs
5.) the whole eczema actually looks worse and redder during a couple of hours since the soak. I know that it contradicts the anti-inflammatory effect, but it just stays a bit more redish while not feeling inflamed though
6.) the scabbed blisters from this procedure take more time to clear up and show a healthy skin, than without being exposed to the vinegar (sometimes even about two weeks).
My conclusion is that although apple cider vinegar has great moisturizing effects on your more-less healthy skin, I personally wouldn't recommend it as an eczema treatment. With my eczema, random blisters used to pop up here and there, but they seemed to clear up faster then after my ACV soak test, which I just described.
Other positive effects of ACV
When I first read about the following effect I was pretty surprised, but it seems to be true. There are studies that show how drinking 15ml of organic appple cider vinegar on daily basis for a period of 12 weeks caused a 1.2 kg loss of weight. It was a double-blind experiment with obese Japanese. While this might be true and working, you also need to know another important fact. Drinking of high amounts of ACV during a larger period of time produces various health risks such as osteoporosis, lower potassium, etc.
Furthermore, there are some great positive effects that I experienced myself. It worked pretty well on removing warts, but you have to be really careful not to apply it for an extended period of time as it is an acid and can cause some burns. I find it also very useful removing dandruffs. Putting some reasonable amount of ACV on the hair and leaving it there for 10 minutes makes wonders.
The only and pretty big disadvantage is the unpleasant typical odor, but if you wash it after with a shampoo it pretty much solves this problem. Anyway, it seems to be actually the best natural remedy to get rid of dandruffs I have come across so far. The most favorite brand seems to the Bragg.
IMPORTANT: To get the whole routine I used to fight my eczema, simply join my group of subscribers in the upper right-hand corner.