Pau d'arco
The object behind this exotic name (Portuguese word for "bow stick") is a tree known first for it's hard wood, which was extensively used to manufacture bows by indians in Central and south America. Nowadays, we also know that apart from this usage, it can serve as an effective medicine for treatment of a huge range of health issues. To mention some of them - it should help in curing any viral, parasitic, or yeast infections, diarrhea, eczema, psoriasis and even some cases of cancer.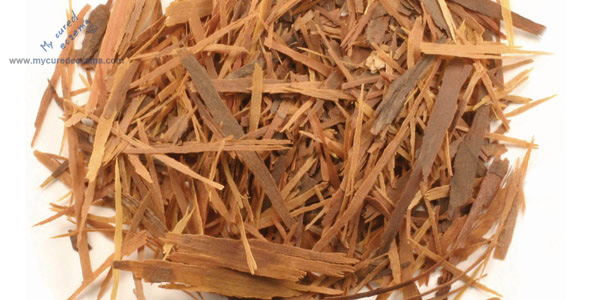 I would say that its healing properties can be compared to the oak tree. The nature gave them strong protecting abilities to be able to survive attacks by different types of bacteria, yeasts, and parasites. Now, humans try to explore and benefit from them as well although it looks like it's not as easy as it sounds. There are some studies, which doubt the ability to receive a lot of power from pau d'arco in the normal doses.
The main problem with this is that higher doses are toxic for us. It is also possibly unsafe to use during pregnancy or breastfeeding. On the other side there are plenty of user experiences proving that the low dosages still seem to provide sufficient beneficial effects that we need.
Similar to oak bark, tea made from pau d'arco is known to help people suffering from literally any digestive problems, ulcers, inflammations, liver damages, joint pain, and even respiratory issues such as bronchitis or asthma. The forms of usage include capsules, tea, or topical creams.
For eczema treatment it's advised to make a 500 ml tea from the bark (simmered for 10-20 minutes) and drink it 3 times a day, always about 20 minutes before food. According to the reviews I could find on the internet, you should notice its effect within a few days in a form of relieved itching of eczema patches, which was also my own observation. Although this was a nice experience, unfortunatelly it didn't help my eczema as much as I would expect.
Deeper in details
There are mainly two chemicals responsible for the healing properties, namely lapachol and beta-lapachone. It's said that these chemicals don't dissolve very well in water, so making tea might have less healing power in comparison to a tea from for example oak bark.
When you decide to try it out and make a purchase of a product containing pau d'arco, be sure to read the ingredients and look for Tabebuia avellanedae(impetiginosa). The problem is that there are companies that sell the outer part of the tree, which is not as useful as the bark. And again, be sure to use small dosages and never more than about two weeks to avoid any health risks and side effects which are, but not limited to: nausea, anemia, diarrhea, or even uncontrolled bleeding and vomiting. Now, I don't want to scare or discourage you from this medicine, but just make sure you'll always stay on the safe side.
IMPORTANT: To get the whole routine I used to fight my eczema, simply join my group of subscribers in the upper right-hand corner.