Antihistamines
Unfortunatelly, this drug is well known among most people because still more and more children and adults find themselves in a situation where they need to treat some allergy health conditions. Among others, the most frequent are:

- hay fever (sneezing, running nose and itchy eyes)
- allergic rhinitis (inflammation of the inside area of nose caused by pollen, dust, mould, etc.)
- allergic conjunctivitis (a very common problem associated by redness and inflammation of the tissue covering the front of the eye)

- and finally eczema (the fact that you are on my website tells me that you probably know a lot more about eczema than you would like to. It can be a REALLY big and life changing problem when it causes some dramatic itching, infections and open wounds)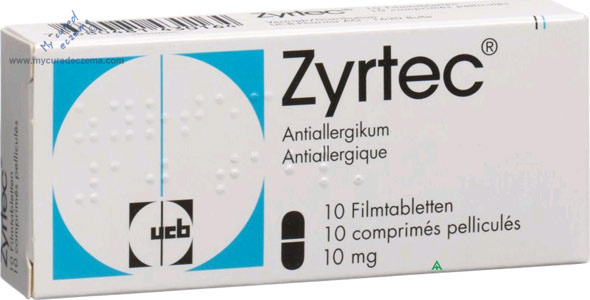 The place that antihistamines hold here is to basically relieve the itch, which consequently leads to less open wounds and less infections as we don't scratch that much anymore. You can get them in capsules, creams or nasal sprays, usually at any pharmacy. However some also need a prescription from your doctor.
The principle
When your body is exposed to an allergic trigger, and in this modern, industrial world it can already be really almost anything, histamines are formed. They are basically chemicals produced by our body to help protect ours cells from infections. As you can imagine, they are a good thing and very important, but sometimes we find it necessary to reduce them. This happens for example if our body makes histamines to fight common substances and objects because it thinks that they pose a threat to us.
This is called allergy or an allergic reaction, and our modern over-industrialized world is the main culprit for the growing number of suffering people. Long story short, this is an example how you can develop an allergy. Imagine you don't come into contact with the plant Lavandula and its odor very often. Then one day you decide to put a lot of this plant in a bag below your pillow at night, because you heard it would be a good idea. It is very probable that you wake up in the middle of the night totally stuffed, with your nose swollen and eyes run and itchy.
This is because your body began to see that this strong substance that it was not really acustommed to, suddenly appeared in your presence in huge concentration and thus histamines are produced to fight against this potential unknown thread. BTW. a similar situation happened to my mom a few years ago. Usually, you get to normal in an hour or so and have no permanent allergic reaction, but in repetitive cases it could mean a real problem.
So as you probably already understand, anti-histamines can temporarily help your eczema simply by suppressing our body defence reactions. The same as with other medicine applyies here as well. Talk to your doctor, and try to limit their use to only unnecessary occasions.
IMPORTANT: To get the whole routine I used to fight my eczema, simply join my group of subscribers in the upper right-hand corner.